Abhimanyu Jakhar -- Scotle High School, Jaipur India -- COVID-19 impact
Abhimanyu is an astute Educator who aims to bring quality education to every child. Through contemporary education he aims to nurture future global leaders who will work for the upliftment of the nation as well as for the betterment of mother Earth.
He is the founder of SCOTLE High School of Jaipur, India. His vision for the school is to nurture educational approaches that naturally lead to critical thinking skills, an inclusive perspective, and a respect for core ethical values in the students to help them achieve personal success and contribute towards the global community as effective future leaders.
Our Director of Schools (Indian Subcontinent), Ritika Subhash spent some time with Abhimanyu to gather his thoughts on education during schools closures.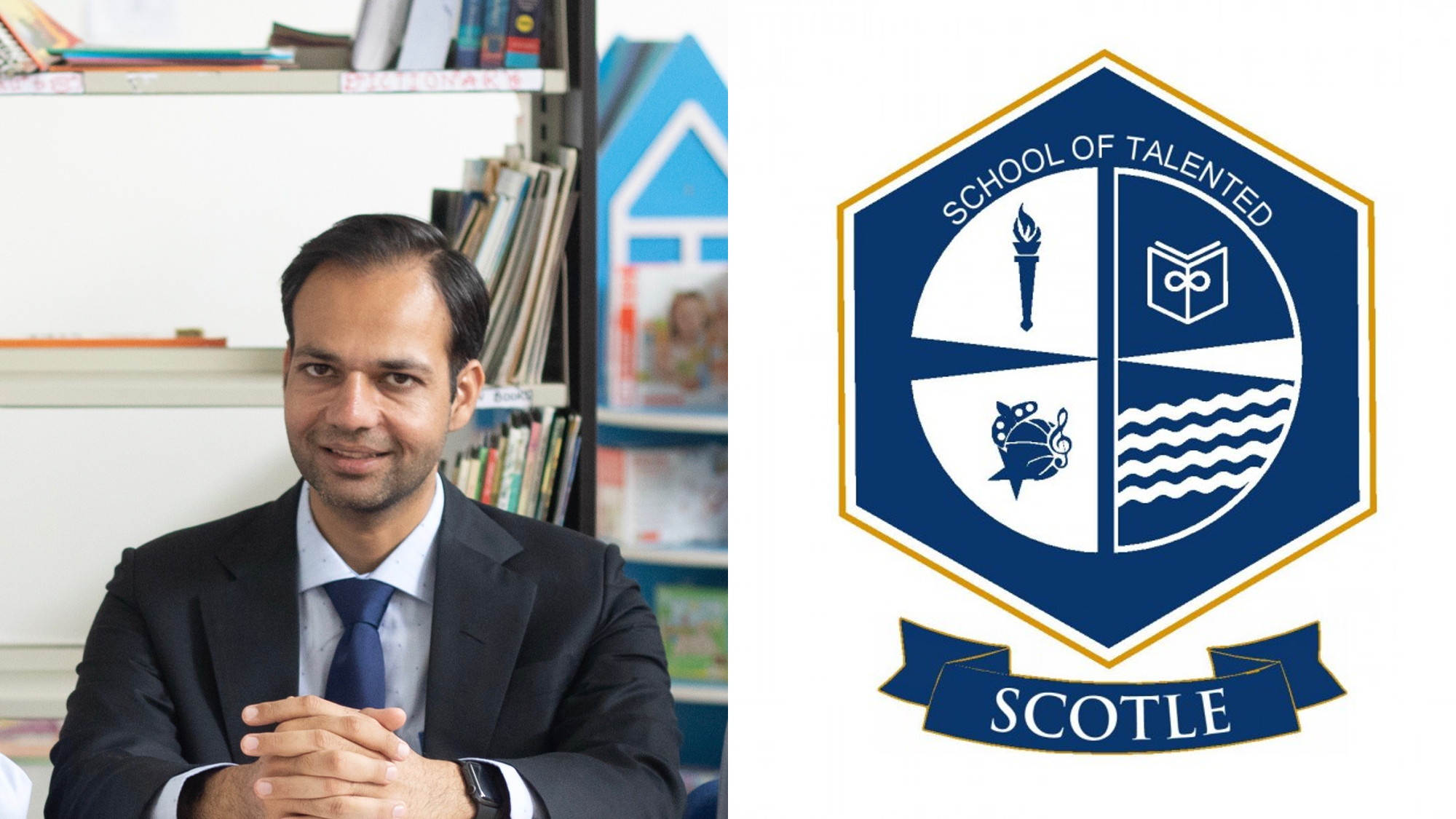 As the world has seen a shift in the last one month, please share how you have adjusted to the new normal.
I absolutely love my job of being a director, a teacher, a facilitator and a problem solver for my entire school community. Before COVID-19 my school hours were 7 am to 7 pm and now the work hours have become 6 am to 10 pm which I am liking even more. My living room now resembles the school's server room with efficient broadband connectivity of 100mbps It has also become a repository for all the course materials and related resources required to run our sessions effectively and efficiently.
Before beginning the virtual sessions, there were a few challenges like training the teachers on how to use the video conferencing platform, how to use dropbox for sharing and uploading files... then another challenge was to train the parents. Steadily, we have improved by leaps on both accounts.
You have observed the education systems in the UK and US closely before taking up school education transformation in India. Can you throw some light on general preparedness of schools abroad versus India to handle this never-before change in pace and style of schooling that we have experienced in the recent months?
Well if I talk about the the schools abroad, they are far ahead of us with respect to:
Availability of logistics
Availability of high speed internet connection
Accustomed to virtual/online classes
Availability of space to attend virtual sessions with zero disturbance from the ambient surroundings.
Hence, for the schools in say a developed country, it would not be a difficult situation to continue with these sessions as long as they may want. What I have heard at some places in US is that they have planned to do the virtual sessions for the entire year.
Coming to the scenario in our country I would like to mention that Indian schools have adapted to the change very quickly. Initially the situation was a bit chaotic due to some reasons:
Majority of the families only have one laptop or mobile phone, and as they are also working from home, they are reluctant in sharing the device with the child for a longer period of time. A typical one  would have sessions, assignments, e-books, assessments and video links.
Majority of the parents are using mobile data which is limited and the network tends to  fluctuate.
Digital distractions.
Confined spaces or large family setup also presents the challenge of interrupted attention. Siblings, first cousins, sometimes grandparents can appear admist lessons. This was a part of our initial teething problems.
Maintaining assignments in a rough or last year's notebook is never convincible for a child, as we have always been insisting on good handwriting and neat work.
However, things settled down within the first two weeks. Now kids are absolutely loving their sessions. Some of the kids concentration has increased which was not the case in the last academic session. They get glued to the screens when their teachers are using aids like ppts, Ted Ed, YouTube videos, and learning applications like Mangahigh. We have introduced assessments in Google forms and the kids are totally loving the MCQs (multiple choice questions) and they are very curious to receive immediate result.
As the founder and director of a relatively new school, how are you coping with this sudden change in gears in operation of the school? What are your top 3 challenges and what systemic solutions (at the government level or society level) will help you cope with these?
Top 3 challenges:
Effectively manage the recurring costs (teaching and non-teaching staff salary, utility payment, vehicle EMI's and insurance), cutting down the capital costs.
If we could make the books and notebooks available to students, that will reduce half of their worries. So if the government allows we could designate somebody from the school who can work with a distributor for door step delivery of the course material.
If the lockdown is over then we would like to run the sessions from school so that teachers do not feel handicapped by the network and data which they do at the moment. Also some parents are wanting to come to school. So the first task would be to sanitise the entire campus and then to follow the best of social distancing protocols.
What are your top strategies at this time to ensure sustainability, keeping the morale of the team high and ensuring that learning isn't compromised despite adversity?
From the very beginning, I have nurtured a positive relationship with all my students, parents as well as teachers so bringing them to the virtual sessions was not difficult. After keeping the orientation for the first 3 days we were able to achieve 80% attendance in the very first week and that has been increasing since then. At the moment in most of the grades its 95%. Only with the pre-primary learners its between 50-75 as they are not in the habit of sitting at one place.
We try to solve their problem with utmost priority, all the parents are having direct access to my numbers so we try to solve their problems then and there.
Now if I talk about my team I feel they are the best human creatures of God. I am so blessed to have such a fantastic team which is  rigorous and hardworking. From the onset, we have been working with granularity in each and every aspect, so my teachers are making sure that they follow the same values in virtual sessions.
We meet at least 3 times in the week for an hour and half in the evening to discuss each other's problems, the solutions that we have for each other and to share empathy and gratitude with each other. Apart from this I personally do video sessions with them to help overcome any challenges that they may be facing in this critical situation.
Lastly I would like to add here that for every server we have designated our admin staff as the support managers who are monitoring the sessions, are the middleman between the parents and teachers, effectively managing the communication and making sure that we minimise our errors.
The number of working hours of my teachers and admin staff has tremendously increased to 12-14 hours which is a major factor that ensures sustainability.
You have a keen interest in developing sports and physical education. How are you planning to continue keeping that as a prime focus, now that students are home?
 We started the physical training sessions from the very first week itself. We are planning to do family yoga sessions. Teachers are educating the students about healthy food and nutrition values so that they maintain highly nutritive and balanced diet.
What are your short-term and long-term plans for uninterrupted learning, considering that a longer closure and regular social distancing could be the way things pan out for the entire year?
Well I do not see any difficulty for conducting the virtual sessions for another 6 months from now, the only challenge would be making the books and notebooks available to all my students.
If the situation gets better and we open the schools in July, we are fortunately equipped to have enough rooms in the academic block to have 10 students in a classroom  of size 500 square feet, the other option that could be applied is odd-even.
What are your recommendations for parents at this time so they can work hand-in-hand with you to ensure optimum utilization of time and resources for the betterment of their children?
Parents are the co-creators of their children. Be it any situation parents always play a vital role in shaping their child's life.
But, yes, their role in the virtual sessions have doubled as they have to monitor whether the child is attentive in the session, is understanding the topics taught. And if not, are they reporting it to the school? Teaching such life skills to a child is one of the most crucial: teaching them how to be resilient in such crisis and stress time, checking the assignments and assessments of the child, and the most important is making sure that the child is not misusing the liberty of having a mobile phone.
Lastly, the education community would highly benefit from your insights about how you see the future of teaching, learning, assessments, evaluation and feedback to continue to raise the next generation of leaders, go-getters and change-makers.
My most important reflection of this period is that we can be incredibly adaptive, highly ambitious and quick learners if we display a growth mindset believe that every crisis is an opportunity to get better. We can uplift humanity by uplifting ourselves.
---
---