Dr. S.P. Thenmozhi -- Kovai Vidyashram, Coimbatore, India -- COVID 19 Impact
Dr. S.P. Thenmozhi, Academic Director of Kovai Vidyashram, CBSE School at Coimbatore, India
She was a Professor at various Business Schools for almost two decades and has rich experience in academics and research. She is the doctoral committee member for Ph.D Scholars in Periyar University. She has been the editor for the International Journal Global Management Review, listed in EBSCO and editor of a student magazine SALAD. She was the president member of Inner Wheel Club of Salem, which is an International NGO. She was also a member in the Government Project – State Balanced Growth Fund which is a funded project under Ministry of HRD.
She was awarded for her excellent performance as Editor of Global Management Review journal for 4 years. She has received the Best CBSE School (National level) Award from Brainfeed Magazine. The school has also received Innovative School Award from BITS-PILANI, Dubai and International School Award from British Council.
Mangahigh.com Schools Manager (Indian Subcontinent), Sujithra Raghul spent some time with Ms.Thenmozhi to gather her thoughts on the role of technology in education during and post the COVID-19 impact.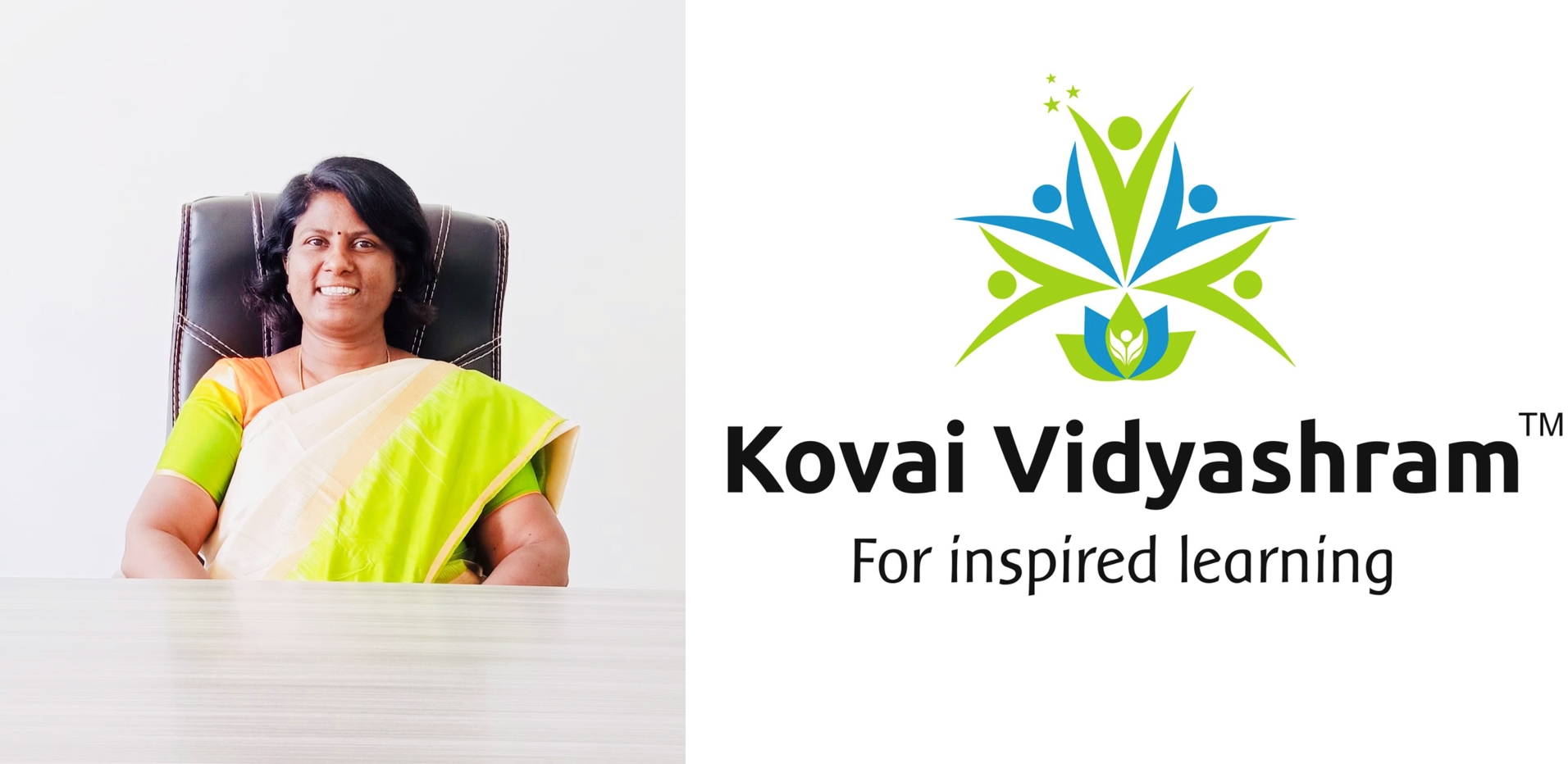 As the world has seen a shift in the last one month, please share how you have adjusted to the new normal.
As educators and school leaders, operating schools remotely during the pandemic has required a greater responsibility. It started with the design for delivering quality education, planning meetings and training sessions for teachers to adopt online teaching, providing learning resources and digitals tools to work, implementing new Learning Management Systems and devising communication strategies to reach students, teachers and parents. We also focused on seamlessly empowering teachers as a face of the school to keep students and parents highly motivated, announcing reward and recognition for training and learning achievements, informing about health awareness and activities linked to maintaining sound health during this pandemic. Thus, we adjusted to the "new normal", as it was the need of the hour.
You have taught as a professor in Management Studies at various business schools for almost two decades and now you are the Academic Director at Kovai Vidyashram School. In your opinion how prepared were higher-education institutions and schools to handle sudden closure and the associated loss of contact time with students?
This pandemic is an unprecedented situation for higher education institutes and schools, requiring them to urgently shift to online teaching. Although it took some time to be prepared and organize the resources, the move was fast. The loss of contact time was well compensated by providing the right learning resources, online tests and evaluation. Since our youth are conversant with digital technologies, the changeover was fast. But this might not be the case all over the country due to the digital divide. The rural and remote areas may not still have the same access to resources as their urban counterparts.
Some of the universities have shifted to open book online examinations as well. Coaching institutions were able to make the shift within a week as they had the necessary resources and platforms already.
What are some of the challenges you experienced in the last two months while transitioning to distance learning? Please share how you addressed them as well.
The COVID-19 pandemic has fast-tracked digital education in India and in the whole world as well. Schools are switching to distance learning mode with various online technologies.
In the month of April, we started live online classes for grades 10 and 12 and classes through digital learning platform for Grades 1 to 9. There were initial hiccups while starting, which were resolved soon.
The first challenge was training newly recruited teachers, followed by making students switch to the online learning mode, network connection problems in rural areas, mobile data bandwidth issues, non-availability of gadgets like smartphones/laptops etc. There was a concern from a few parents regarding giving access to smartphone and the internet to young kids. Initially students had distraction from family members and pets while attending online classes from home.
We made the necessary arrangements for teachers to provide the required resources. Through messages and phone calls, parents were informed about the importance of continuous learning for students during lockdown, and they were advised to provide mobile phone/laptop to their wards; to switch to mobile networks, which connected well in their area, and to choose locations at home to attend classes where network connectivity was good with no distraction. Parents were also advised to provide quality headsets/earphones to students to prevent from headache or ear pain due to continuous digital engagement. Netiquettes were taught to students and they were strictly asked to follow.
What are some key learnings and insights that you have gained regarding use of technology as a primary teaching platform for your school in the last two months?
Technology has been extensively used for education now during lockdown than ever before.
Thanks to the various organizations in education sector offering complimentary online platforms and apps for students learning. It was a boon to keep the student community engaged and excited. The pandemic has provided a great opportunity for teachers to access a plethora of online learning resources, attend online training programs and webinar series to equip themselves better and promote digital classrooms effectively. Technology has also helped to keep the teacher-student ratio low, as a large number of students can be engaged on the online platform with one teacher or, in fact, no teacher physically during video lectures.
In a way, technology has helped administrators in monitoring mechanism in terms of assessments, evaluation and feedback. Various learning platforms supported by Artificial Intelligence and gamification models like Mangahigh ensures learning with understanding for students with varied learning abilities. It stimulates the spirit of competition in students and motivates them to take up challenging tasks with a focus on joyful learning.
Our school students made a quick adaptation to the digital tools. Apart from curriculum-based lessons, various creative activities like art, painting, gardening, making food recipes, helping parents in household work, awareness talks on pandemic and experiments related to concepts learnt in science were assigned during this lockdown. Students recorded their activities and reported through YouTube links and WhatsApp, which was in turn shared with others.
What are your recommendations for parents at this time so they can work hand-in-hand with you to ensure optimum utilization of time and resources for the betterment of their children?
Cooperation and support from parents is a must for the success of online education in schools. All the necessary resources like smartphone, laptop, mobile data, internet facility and conducive learning environment has to be provided to the students at home. Young children need the hand-holding support to learn new things and siblings should be encouraged for collaborative learning and tutoring when parents are not able to help. At times, parents should also monitor the children during online learning, as cyber bullying is a threat. They need to supervise during tests and assessments and ensure that submissions are done in time. Lastly, taking care of children's health and safety is of utmost importance.
As some schools are thinking about re-opening in the next few months, what are the top 3 things, you feel, they should address now, so that the transition to in-person teaching is smooth. DO you suggest schools to look at online learning as a long – term solution, moving parallel to in-class teaching, this creating unified learning ecosystem?
Online learning is definitely a long-term solution for a country like India with the largest youth population. Post this pandemic, we will see a new world with lots of changes demanding different skillsets from the workforce. When online learning is ensured for subject lessons, there is availability of time to spend in schools to develop life-skills and competencies in students to cater to this new world.
Lastly the education community would highly benefit from your insights about how you see the future of teaching, learning, assessments, evaluation, and feedback to continue to raise the next generation of leader, go-getters and change-makers?
There will be a revolution in the education sector in terms of government laying down new education policies, creating a robust digital infrastructure and promoting online education technologies, thus expanding the scope and scale of online education globally.
Although online education was promoted earlier, this pandemic has brought it into the spotlight. Now there will be no looking back. The competition for providing quality education in the new form would be stiff. At the same time, there is a paradigm shift in the mindset of teachers, students as well as a new positivity in the minds of parents about online education.
With the newer technologies growing day by day, the assessments, evaluation and feedback will be made much easier and faster, customized to individual learners. This would definitely change the assessment pattern of a 3-hour exam for rote learning to assessments testing the critical thinking and problem solving ability of students with objective questioning. There will be a compulsion to standardize education to meet the global needs. This will be a welcome change.
---
---