Ms. Sheeja P R -- SNS Academy, Coimbatore, India -- COVID 19 Impact
Ms. Sheeja P R, Principal of SNS Academy, A Fingerprint School in Coimbatore
As a teacher, and an expert public speaker, she excels in the fields of Curriculum Development and Educational Technology. She has a post-graduation degree in Economics, English and Education. After serving in the designation of principal for schools for 10 years, she now leads SNS Academy, the Fingerprint International School, Coimbatore. It is an institution, which has set a certain standard in public schooling in the ever-changing dynamic world of education.
She is a Master Trainer of COE, CBSE on new academic reforms, classroom management, gender sensitivity and life skill teaching and conducted many workshops for teachers on CCE documentation and SS teaching, gender sensitivity, classroom management, evidence gathering and co-scholastic training.
She has worked as an inspection-team member for affiliation and upgradation of  CBSE schools in Kerala. She is a certified instructor in spoken English, trained by Trinity College, London.
She has received awards such as Dynamic Principal from Rotary Club, Erode in 2014 and Progressive Principal from Rethink India Pvt Ltd in 2017.
Mangahigh.com Schools Manager (Indian Subcontinent), Sujithra Raghul spent some time with Ms. Sheeja P R to gather her thoughts on the role of technology in education during and post the COVID-19 impact.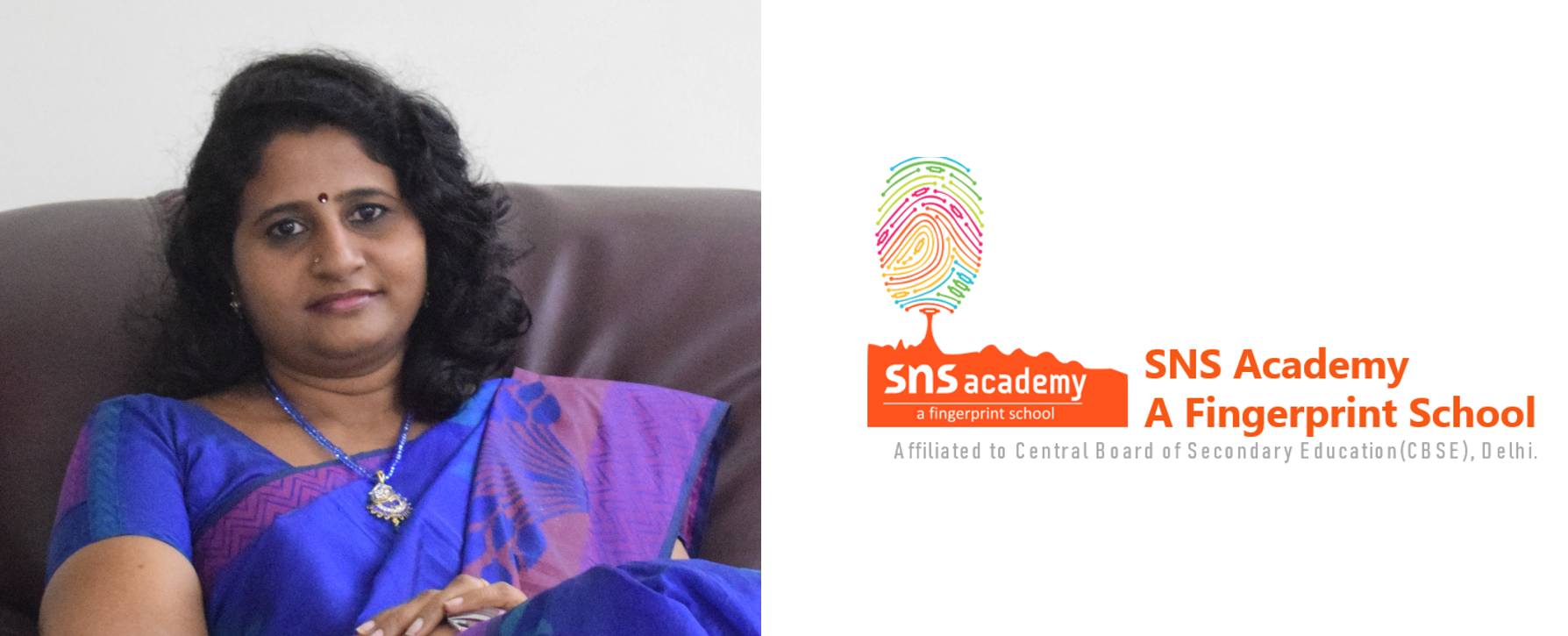 As the world has seen a shift in the last one month, please share how you have adjusted to the new normal.
"Changes are natural and challenges are inevitable for success".
Two months ago, a catastrophic and pandemic disease emerged across the world. A new challenge has been raised to us - how do we to ensure continuity in learning without direct contacts or meeting?  
Of course, it made me worry like any other leader, but the brainstorming led to solutions and further journey became simple. We made a few adjustments and changes in our conventional systems and started a new journey.
SNS Academy is a school that gives utmost importance to technology-based education, so it was easy for us to bring our students, teachers and parents on the digital platform with immediate effect. We started online classes with the help of Microsoft Teams since the lockdown in April itself. We categorically organized training programmes for teachers on effective planning, teaching and assessment in digital pedagogy. The support of SNS management by providing the needed infrastructure for digital learning made the transformation very easy.
What are some of the challenges you experienced in the last two months while transitioning to distance learning? Please share how you addressed them as well.
The teaching-learning activities have completely been transformed to digital platform. Teachers and students explored the endless opportunities of virtual learning and flipped classes.
Educating a few members of our team who were not tech-savvy was the first challenge; that was achieved through training programmes and video tutorials. The team members who are very good in technology took the ownership of others who were in need of support and easily helped them transition.
Internet connectivity and availability of gadgets for students and teachers were other challenges. Everyone understood the need of the hour and they increased the connectivity speed and arranged for the devices. School management also extended their helping hands.
Online assessment to measure the learning outcome was quite challenging in the beginning, but the online forms and many applications we used helped to understand the learning outcome of students in an interesting way.
What are some key learning and insights that you have gained regarding use of technology as a primary teaching platform for your school in the last 2 months?
Technology opens a wide platform for interactive learning. It helps the students to enhance their learning at their own pace. It helps the students to reach out to the teacher in an easy and comfortable way.
The inhibition to ask doubts in an open forum is tackled through personal messaging features of adaptive learning platforms, such as Mangahigh. Sharing of learning materials is easy; the Class Note Book in Microsoft teams provides a collaborative space for all students to work together. It collates the student assignment data and makes the record keeping easy. Recorded classes and video lectures help students to revise and learn at their pace.
You are a master trainer with Centers of Excellence, CBSE and a thought-leader on academic reforms and classroom management. Is there a plan by CBSE to include training teachers on use of educational technology as a part of their ongoing professional development?
Yes, of course. CBSE COE has started online training in a very serious way and ensures that thousands of teachers benefit out of that. The online trainings are comprehensive; teachers can attend it from their homes so many are getting benefitted out of it. Special training for RPs is also provided by CBSE COE.  CBSE has already established educational portals like DIKSHA for this purpose.
What are your recommendations for parents at this time so they can work hand-in-hand with you to ensure optimum utilization of time and resources for the betterment of their children?
This challenging time provided another benefit of bringing the families closer. The understanding among the family members seems to have largely improved. This is the time for parents to monitor the learning of their children. They should provide proper learning ambience to the student in an undisturbed way but under their supervision. They can provide suitable diet, which enables the children to improve their health so as to concentrate more in the classes. Parents should ensure the physical activities of their children, since the school physical education classes and the general day-to-day physical activities are not happening.  Children should get the emotional and moral support of parents for effective learning at this time.
As some schools are thinking about re-opening in the next few months, what are the top 3 things, you feel, they should address now, so that the transition to in-person teaching is smooth. Do you suggest schools to look at online learning as a long-term solution, moving parallel to in-class teaching, thus creating a unified learning ecosystem?
We should address the development of teachers as per the requirements of the new learning pedagogy. The online teaching cannot be seen as a substitute of the traditional or conventional direct learning of student. The Guru-Sishya Parampara of India and direct learning from teacher with real books are of high value.
The learning outcome of online teaching should be measured systematically. The skill development of student should be focused on, in order to ensure competency-based learning.
Online teaching-learning is a parallel learning mechanism to real classroom. It will support the students in doubt clarification and revisions. The proper blend of digital pedagogy with real classroom activities will certainly provide better outcome. The alpha-generation students can be effectively taught only through the proper blend of virtual classroom and real classroom with technology and electronic gadgets.
Lastly, the education community would highly benefit from your insights about how you see the future of teaching, learning, assessments, evaluation and feedback to continue to raise the next generation of leaders, go-getters and change-makers? 
SNS Academy, as an institution, aims to produce unique global leaders and provides maximum importance to the qualities of each individual through Fingerprint approach. We believe that technology-based education will be the future of our learning ecosystem.
As a passionate educational innovator, who focuses on transforming the system around us into a better one, I believe in virtual classes as an effective tool. Aligning the pedagogy to design thinking and integration of Artificial intelligence driven tools is essential. The next generation leaders should make teaching, learning, assessments, evaluation and feedback aligned to the virtual classes.
---
---