Distance Learning: Homework only
Asynchoronous Learning uses a blend of technologies to enable remote students to work at their own pace, to achieve preset goals.
Mangahigh uses scaffolded activities to make achieving mastery easy, but we take mathematics to a whole other level! We want students to develop deeper and more meaningful mathematical understanding. Assigning Mangahigh as homework allows students time to work at their own pace, and to develop the following skills, which research shows are key to successful online learning.
Specific benefits to assigning Mangahigh as homework:
Real-time feedback - when face-to-face time is at a premium, Mangahigh provides students with real-time feedback. This allows students to learn from their mistakes, applying their recently learnt knowledge to further extend their learning. 'Closing the loop' between mistake recognition and learning is how we ensure continuous growth and progress when using Mangahigh. This is a prominent feature in both our games and Prodigi learning quizzes.
Immediate feedback - self-correcting activities provide teachers with instant and invisible progress monitoring. This means teachers can identify students that need additional support instantly, allowing for targetted support.
Power back to the students - increased flexibility as students can learn to spend time on areas where they need it the most, becoming more effective self learners. This means students learn to take more ownership of their learning with guided recommendations, but freedom to select from the relevant curriculum focus areas.
Self reflection as students evaluate and track their own progress
Bring in multiple modes of expression! Student self-evaluation, including how to express oneself, invites metacognitive awareness, a key component to successful distance learning
Here are the recommended steps
Setting for class (5-10 minutes)
Assign 2-3 Prodigi activities and 1 Game activity. (Recommend: set the due date 1 week after the start date. Feel free to customise depending on your weekly goals)
Use Notification to direct students' focus and prioritise activities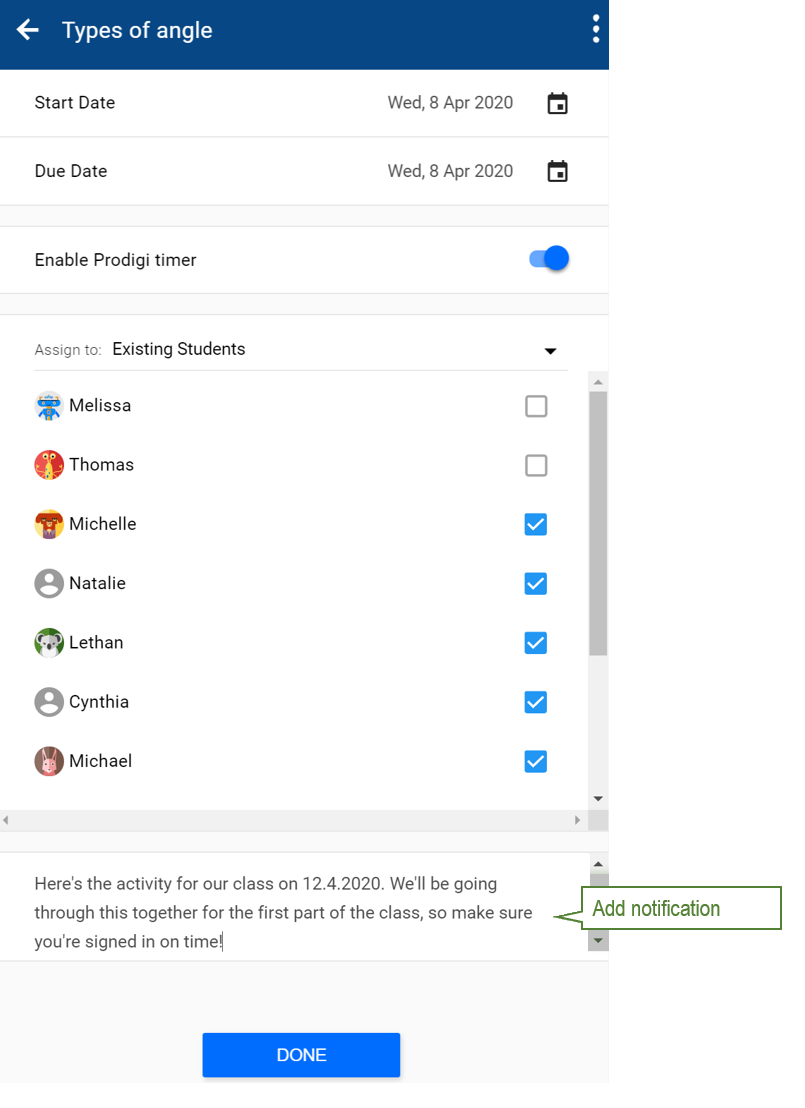 Asynchronous learning (30-40 minutes)
Allow students to play the activities on their ASSIGNED list.

Prodigi: Students play at least 3 times to earn the highest medal possible
Games: Students play until they earn the highest medal possible, for at least 15 minutes

Students can also access activities from their INBOX notification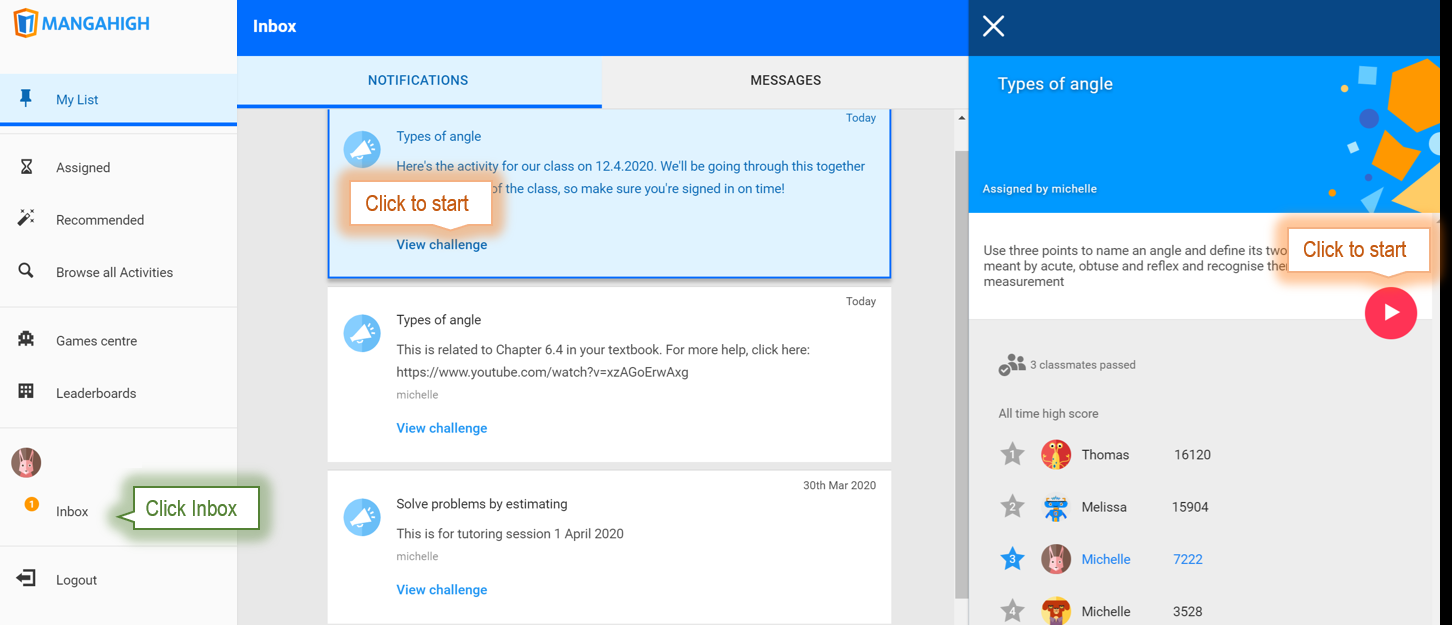 Remind students to attempt 2-3 Recommended activities to further support their learning
Click on their name to view their own progress
Mangahigh's key elements deepen learning:
Friendly: Prodigi challenges begin with questions that should be easy for a student to answer, which makes for a friendly start
Fun: Games invite students to give their best effort; they want to win the game
Accessible: Mangahigh can be accessed remotely from any location, on a computer or a phone, using internet or cellular data
Adaptive: Challenges adapt to learners' current skill level 
Data: student progress is tracked in real time in the teacher dashboard
Differentiated: students receive scaffolding or stretch challenges in their recommended list
Continuous Formative Assessment
Monitor performance data while students are continuing to work on their activities
Congratulate students that have achieved a medal. You can use the Mangahigh messaging system to do this.
Recommend and/or assign further activities based on understanding
Reflection: seize the moment! Have students respond through creative reflection. Research shows that learners who experience material in more than one way (videos, podcasts, screencasts, video conferencing, visual, written, etc.) understand and retain material better, and for longer periods of time.
This is a great time to invite students to leverage online tools to create diagrams, audio responses, podcasts, and put together videos with their families; they can also write plays and conduct interviews.  Adobe Spark is a free platform for creating student work. Finally, consider out-of-the-box concepts that combine goals: ask students to familiarize themselves with their tools by interviewing a family member or friend. This will not only build confidence, but create social connection.
"Here's a chance to imagine and try some new ways—because no matter what, we have to do things differently."
We'd love to hear about the ways that distance learning and Mangahigh can serve you and your students. Please drop us a line and share your stories with us!
---
---