Flexible (Agile) Teaching - Lesson Structure
Following this initial change in teaching practices due to remote learning requirements, teachers need to start planning for a flexible (agile) lesson structure where lessons can be run interchangeably between face-to-face and remote teaching, or perhaps even both in parallel, where some students attend classes, while others maintain remote learning.
Here's a lesson structure using Mangahigh that allows for this:
PRE-CLASS planning (weekly/fortnightly, 10-15 minutes)
Assign 2 Prodigi and 1 Game activities per week, that relates to the topic you are teaching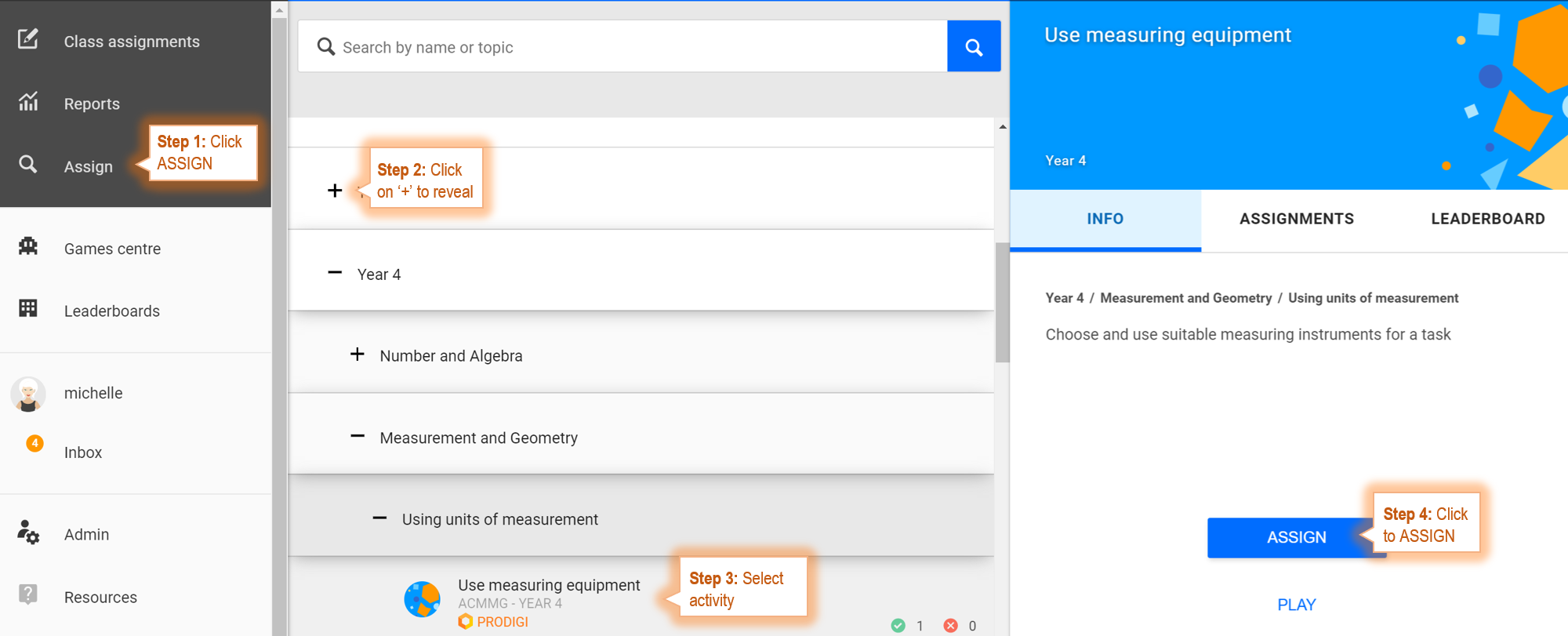 To help with planning, you may like to download the full list of curriculum-aligned activities available on Mangahigh.
(OPTIONAL) PRE-RECORD a 'play' session, to use as introduction to the lesson, or for flipped learning
Use free tools like loom, or screencast-o-matic to record, then share the lesson with your students. Take a look at some sample lessons delivered by Mangahigh's lead teacher, Chris Green.
To open one of the activities directly from the assigned list, go to your Mangahigh teacher account.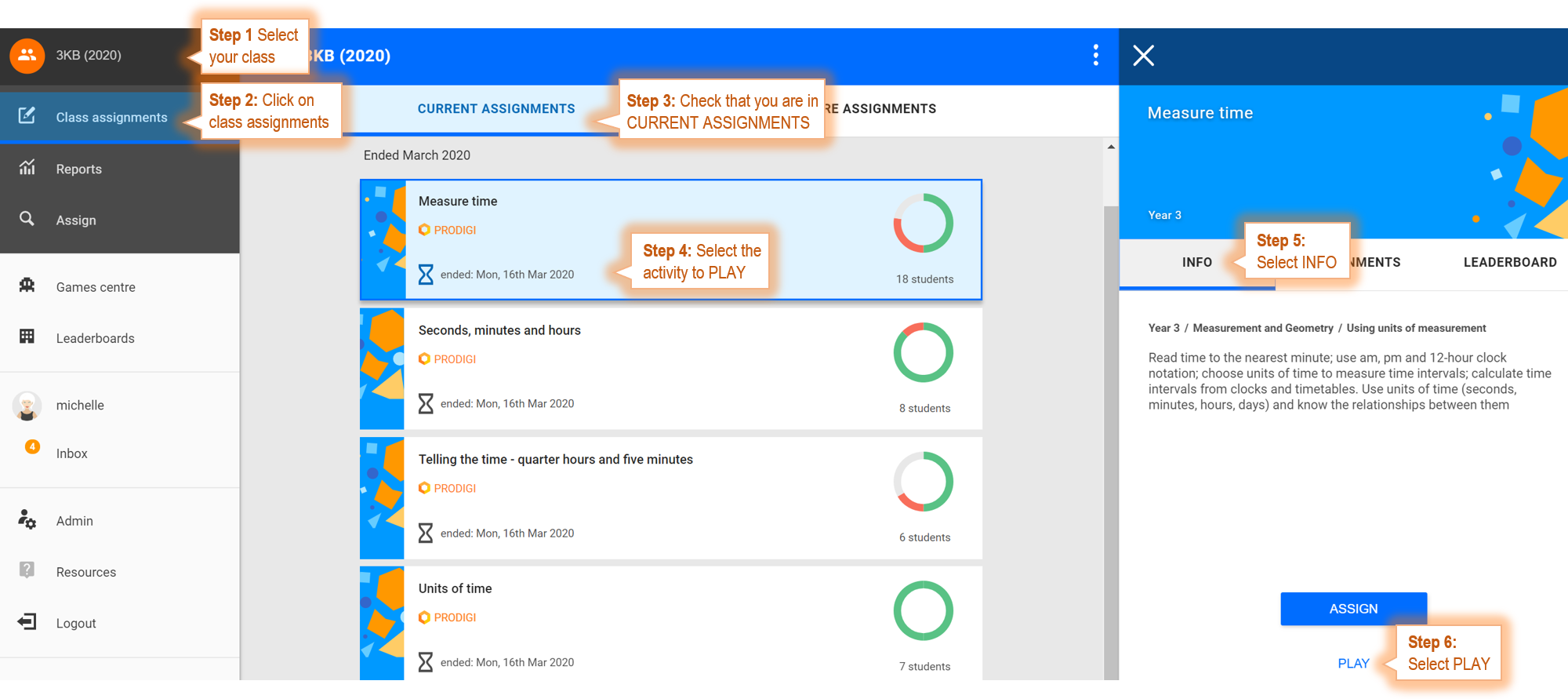 Select your class
Click on Class assignments
Find activities under 'CURRENT ASSIGNMENTS'
Select the activity to record/play
Click on INFO
Click PLAY to open the activity
If you don't pre-record, you can demo the Prodigi activity live during the first part of your class.
1. DURING CLASS: Discuss Learning Objective (1-2 minutes)
List the learning objectives for your students based on the titles of the activities assigned
From your Mangahigh Teacher account, ensure you have your class selected
Click on Class assignments
Under CURRENT ASSIGNMENTS, view the list of activities. Using the expiry date and instruct your students to 2-3 activities that they are required to finish for this lesson.
Use the activity title as the learning objective for the day
(Optional) Ask students to write down the list in their workbook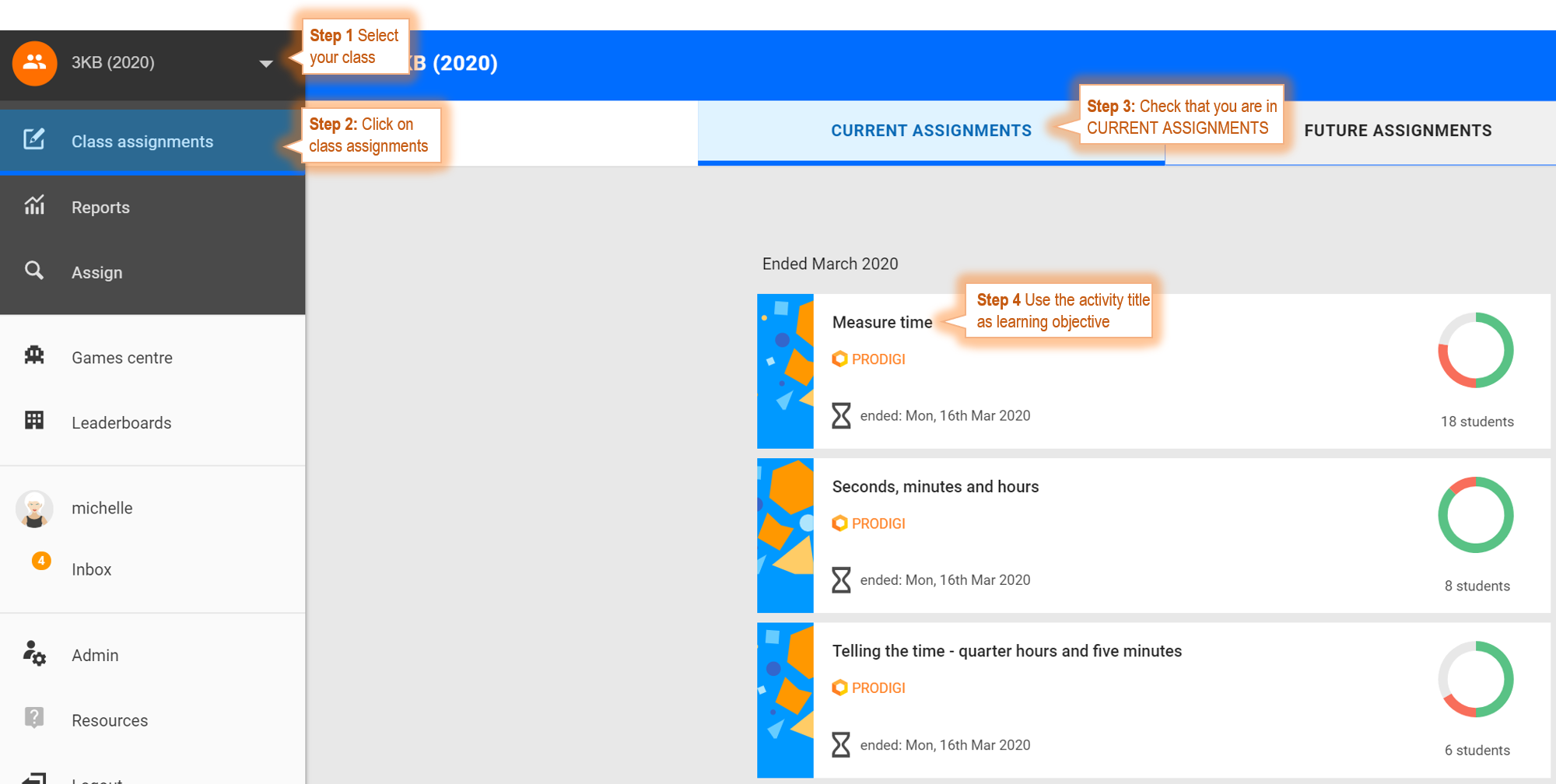 2. DURING CLASS: Introduction - Lesson Demonstration (10 minutes)
For introduction, students can either:
watch the pre-recorded lesson demonstration; or
view teacher's live lesson demonstration
Follow the same steps above (under pre-record a play session) to bring up a lesson from the list of CURRENT ASSIGNMENTS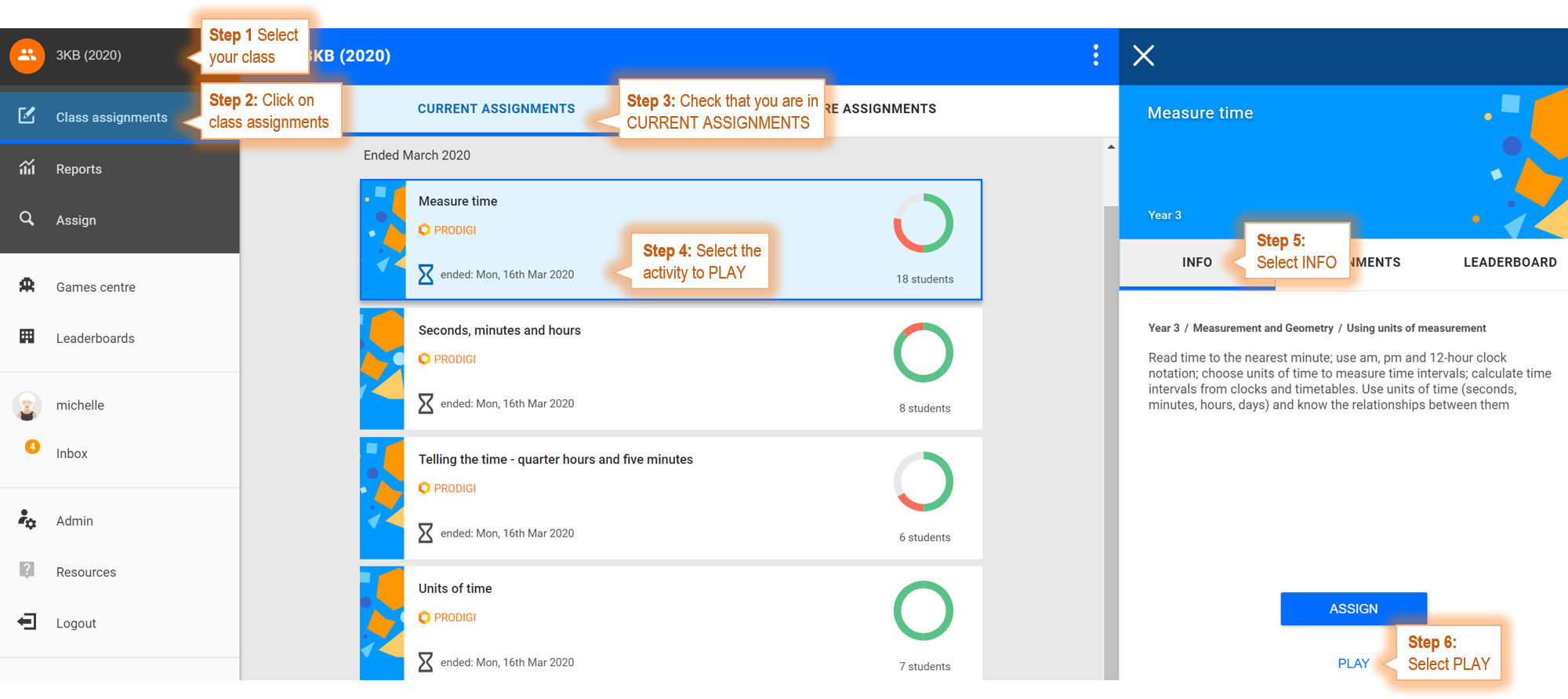 3. DURING CLASS: Students complete activities, while teachers check progress live (15-30 minutes - as time permits)
Students attempt the activity from their ASSIGNED list. Teachers can track students' progress live using the CLASS ASSIGNMENTS analytics:
View how many attempts each student has made. Remember, students should aim for 3+ attempts
Where students have earned a Bronze medal after 1-2 attempts, ask students to challenge themselves, try and upgrade to a Silver/Bronze by attempting a 3rd time. Remember, each re-attempt exposes students to 10 more new questions. Learn more about medals and how to pass a Prodigi activity.
Where students have not earned a medal after 3+ attempts, offer 1:1 intervention, and assign an alternative activity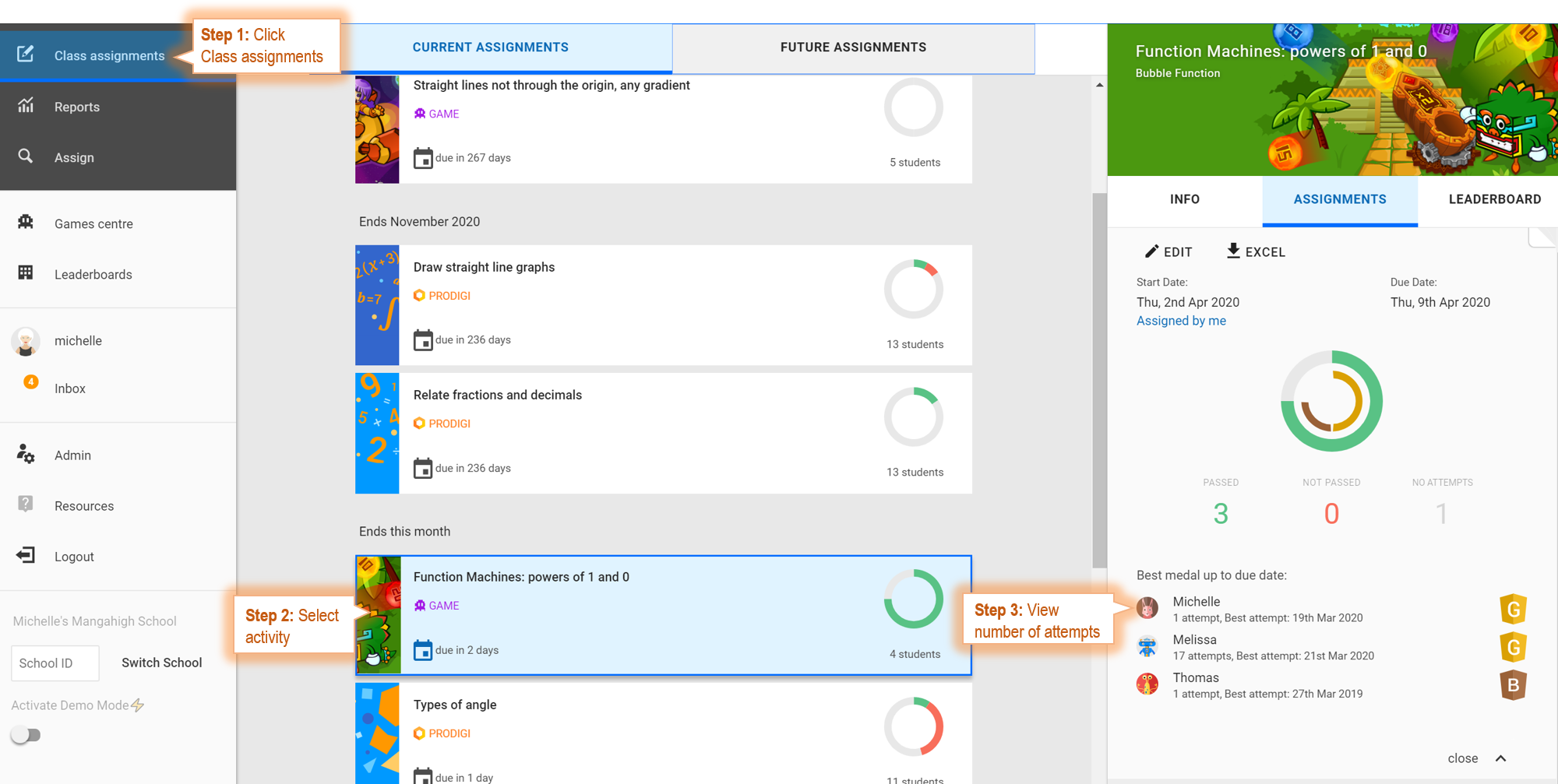 4. EXIT TICKETS: Checking understanding of the contents covered
Check students' understanding by having them summarize key points from the lesson
Verify that students can solve a problem or answer a significant question based on the lesson
Emphasize the essential question for the day's lesson
Have students ask questions they still have about the lesson
See if students can apply the content in a new way
Formulate guided groups for students who did not demonstrate understanding after the lesson
Create extensions for students who demonstrate mastery after the lesson
For more ideas on Exit Tickets, click here.
---
---